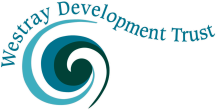 Purpose
Westray Development Trust (WDT) was established in 1998 'to develop the economic, social and cultural sustainability of our community by harnessing the quality of our resources, people and island environment'. In order to carry out this mission, WDT has nine objectives including a goal to "regenerate the community of Westray by the maintenance or improvement of the physical, social and economic infrastructure". It is from this goal that WDT developed the Westray Community Business Loan Scheme. This is so that the income generated from the 900kW community wind turbine could support sustainable economic development in Westray to the social, cultural and economic benefit of the Westray community.
Therefore Westray Development Trust will consider applications for a community business loan for a new or existing business venture that:
Is owned and operated in Westray.
Maintains and/or creates new employment in Westray.
Supports the viability of other locally owned and operated businesses.
Brings clear and identifiable benefits to the community of Westray.
Enables a viable business to continue that currently provides a local service/benefit, but is in danger of being wound up and lost to the community.
OR
Enables a viable new business to set up in Westray to fill an identified service need in the community or brings clear community benefit to Westray.