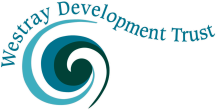 Community Turbine Funds
The 900kW Westray Community Turbine is the main source of income for the Westray Development Trust. The Trust also continually works to draw additional funding into Westray from external funding sources for projects big and small.
The Turbine now covers some of the Trust's operational costs and also provides an income that the Trust makes available to the Westray community. This funding is separated into four different grant budgets;
ENTERTAINMENT GRANT

This grant is available in order to enable groups to put on events in Westray. The Trust Board recognises that the cost of travelling to Westray and freight costs could be seen as prohibitive for event organisation, therefore funding is available to a maximum of £700 per event which could be used for costs such as the travel and accommodation costs of travelling acts, freight costs of equipment, decoration, catering or room hire.

COMMUNITY GRANT

This grant is available for one-off project costs and is to be used to supplement existing funding for projects not be the sole funder. Grants will be made between £50 and £50,000 to fund a maximum of 80% of the total cost of the project.

EDUCATION & TRAINING GRANT

This grant is available for Westray residents to assist with course fees for any kind of training or educational course or event. This grant will fund a maximum of 50% of course fees to a value no greater than £500. This includes exam fees. The grant does not cover travel or accommodation costs.
Application forms for these grants can be found here. Guidance Notes are also available to assist you in filling out the application.
Funding is only available to Westray residents or Westray groups for projects in line with the charitable objectives of the Trust. Retrospective applications will not be accepted. More information on policy and criteria is available to download here.
Ideas for larger projects can also be submitted for preliminary evaluation to assess fit with charitable goals and give an indication of whether to pursue the idea further, before producing a fully developed business or project plan.
Below are links to lists of funding awards from the Community Turbine Fund. Please note this does not show individual award amounts or give information on any funds returned or unused;